Proposals Deserve to Be Remembered Forever
I am a marriage proposal photographer and videographer. Based in New York City, it's my passion to capture those special moments when you come to ask the love of your life: "Will you marry me?"
Everyone knows that it's crucial to have great photography for your wedding day — but many are also waking up to the fact that these memorable moments start much earlier: at the proposal itself!
A proposal is so important. After all, it's what sets the rest of your life in motion. And capturing that moment requires a very special kind of photographer. You need someone with an eye for artistry, for gesture and for emotion.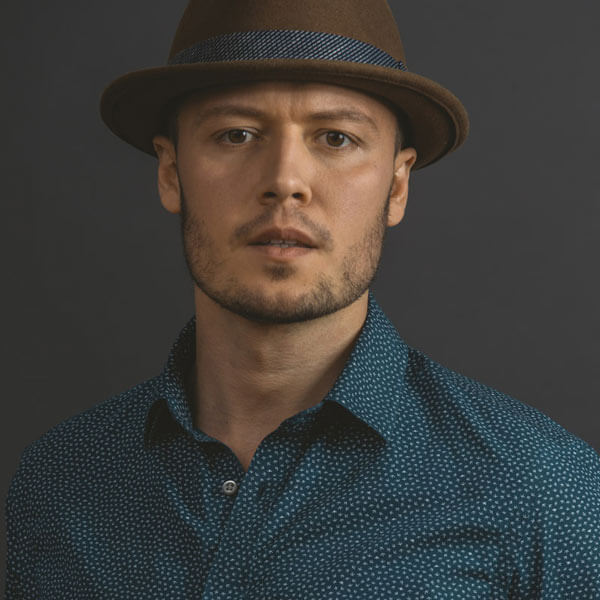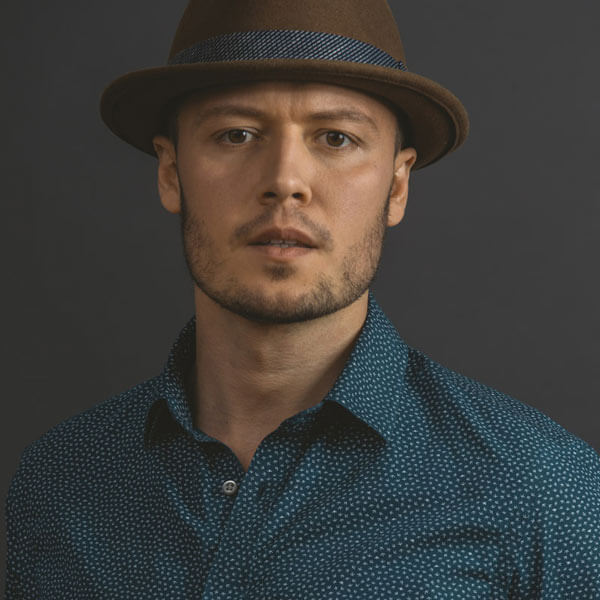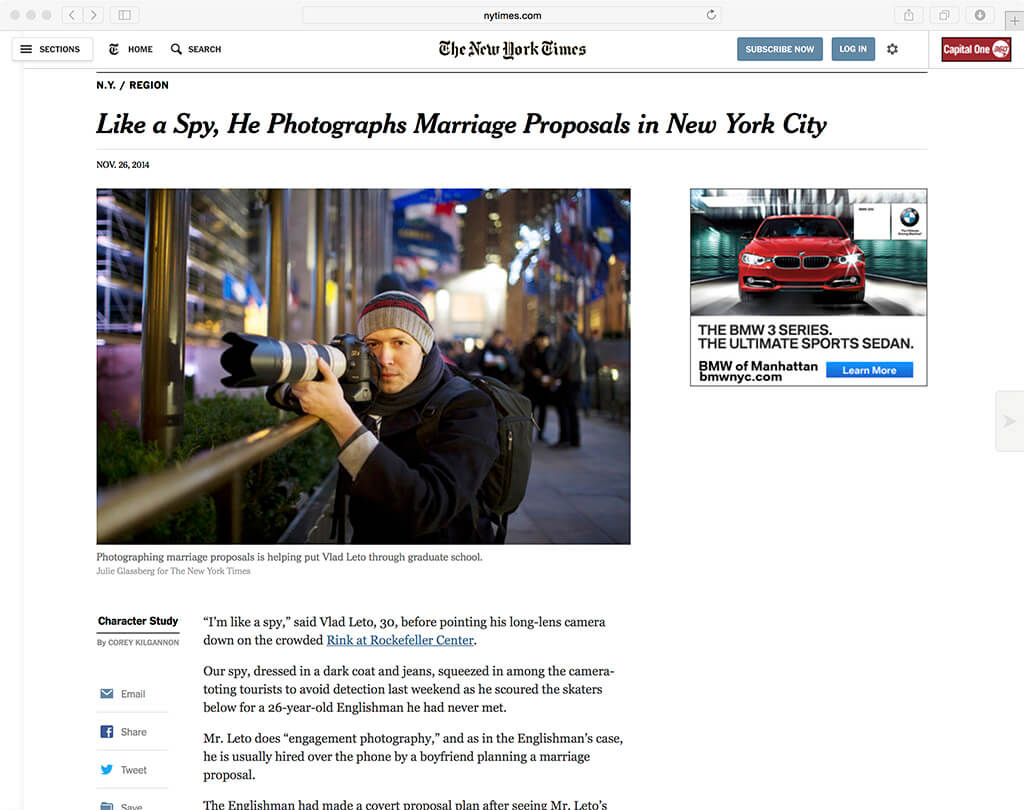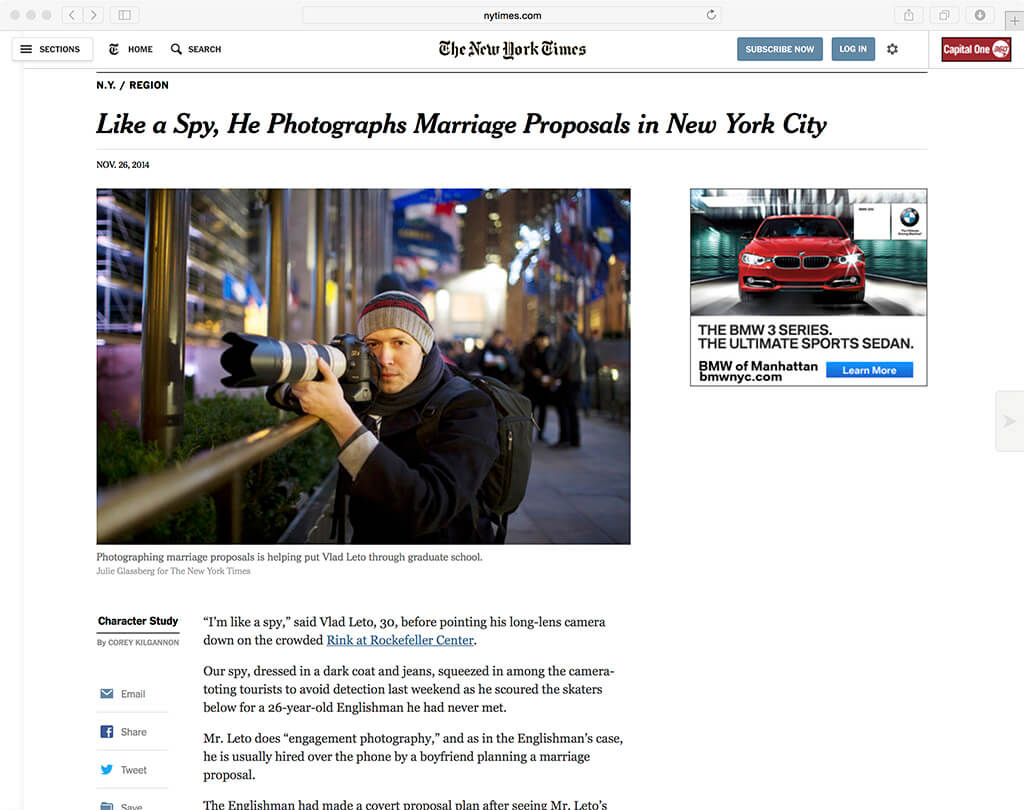 International recognition
After I was featured as NYC's "secret proposal photographer" in The New York Times, my work captured the interest of a great many others worldwide. I've since been featured in magazines and newspapers across the globe, from the USA to China!
Fancy magazines and newspapers aside, the most important people to me are really the couples I photograph. I love capturing that moment of surprise, and it seems that's exactly what my couples love to: "That was probably more surprising than the actual moment," says Caitlin, "it was so special to look back on that moment and feel those feelings all over again."
My Experience
In 2015, I graduated with a Master's in Photography from The School of Visual Arts (SVA), New York. My teachers were some of the best in photographic, fashion, TV and advertising industries and I learned a great deal from them about how to take the perfect shot. But I learned much more than photography alone: my graduating project was a short film, where I really got to grips with just how powerful a moving image can be in terms of storytelling.
This experience added yet another dimension to my portfolio and also made me think deeply about how I could implement videography into my proposal offer.
My Commitment to the Craft
While it's definitely true that you can always tell the story of your proposal to your friends and family — from the nail-biting planning stages to the butterfly-in-stomach inducing day of the proposal itself — I can help you greatly enhance the emotional journey by photographing and filming your day.
I have been a full-time photographer since 2005, and in the last ten years I have photographed so many couples all across New York City. Not sure where to go to propose to your significant other? Just ask me: I can give you a lot of advice on the most popular places in the city — and even some of the most overlooked!
Proposal Film
I shot and edited my first marriage proposal film in the summer of 2015 using two cameras and a drone. The video was published online and quickly went viral: it became one of the "Best Proposal Videos of 2015",rewarded by HowHeAsked.com, one of the most popular wedding proposal websites around. It was hugely flattering to receive that accolade. What was most important to me, though, was that the couple themselves loved their video. What I learned from the process was that while all the features and professional reviews are lovely feathers in my cap, what really gives me the most joy is when the couples love the photographs and films of their proposal. So, in order to ensure that I am giving my couples the very best, I continue to take storytelling and story crafting classes, film courses, and I am always on the lookout for talented new members to add to my film crew.
What am I Doing now?
In January 2016, my work was exhibited in Milk Studios, NYC.
As of Spring 2016, my proposal planning & production team and I have been shooting over 700 proposals and dozens of wedding proposal videos all over the Big Apple.
Whenever I get any free time, I work on my handbook How to Propose in New York City: Essential Tips,Secrets and locations from an NYC Photographer. Why Proposals?
I want to change the way people think about proposals. Proposals are the figurehead of the rest of your lives together — they deserve the same love and attention as marriages. After all, this is the day you ask your partner if they would spend the rest of their lives with you! It can't get more important than that!
And with magazine features and interviews of what I do, it seems the movement's already started.
Of course, the wedding itself is the day when you actually confirm your love and commitment surrounded by your family and friends. But weddings are oftentimes not only about the couple; weddings involve so many formalities and traditions, and you are always somewhat bound by the wants and desires of other people involved, especially family, whether it's their desire to see you married wearing a certain item, or their wish that you marry in a place that has special meaning for them.
All that magic of actually being in love, though, happens at the moment of your proposal, and that moment is completely unclouded by anyone else.
If I've convinced you that your proposal absolutely deserves the attention I can give to it, why don't you send me a message with your thoughts? I'd love to speak with you more about your ideas and hopes for your proposal. My clients always find that I help them to feel more organized in their thinking!
Can you capture my proposal on video?
Yes, definitely! In fact, I think it's necessary to have the proposal not only photographed but also filmed. Video gives a wonderfully rounded perspective to your proposal that perfectly complements the photography.
I shot and edited my first marriage proposal video in the summer of 2015 using two cameras and a drone. The video was published online and quickly went viral: it became one of the 'Best Proposal Videos of 2015,' awarded by HowHeAsked.com, one of the most popular wedding proposal websites around. I have plenty of film package options available to suit all budgets. Just send me a message with your ideas and I'll get back to you with some suggestions.
Where can I find out more about the packages do you offer?
Just send me an email with your enquiry. I have packages to suit every budget, from an intimate proposal in Central Park when morning has just broken to an extravagant engagement party on a rooftop bar!
Can you help me with an idea?
Definitely. I have a creative team behind me, including a proposal planner, to help build the perfect proposal for your partner. Just send me a message and we can pencil in a chat.
Can you help me with planning?
Yes. A member of my creative team is a professional proposal planner and she has helped a great many of my couples to have an incredible day. Please send me a message to let me know that you would also like to talk with our proposal planner.
Can I make an appointment to meet with you before the big day?
Certainly. If you are in New York, you can come and meet me in my studio or in a spot of your choosing in the city. If you are not in NYC, we can schedule a Skype call or telephone conversation; my number is +1(929) 600-1664.
Can you make a map from my hotel to the proposal spot?
Yes, I provide clear maps and support for all my couples! The map I create will include tips and photos to ensure that your proposal goes smoothly.
Isn't it going to be hard to bring my partner to the proposal location at the right time?
Actually, no! Not one of my couples has had trouble, and that's all down to good organization. I will write up a plan and map for you that have worked for countless other proposals. The plan considers all timings, including transportation and walking distances. I make it easy for you to get to where you want to be and at the right time. All you have to do is commit it to memory.
Can you help me with rooftop rentals?
Absolutely. We have sourced the best 10 private rooftops in Manhattan and Brooklyn, and will gladly share them with you over email.
[unex_ce_button id="content_dthr11f5w,column_content_39cqwgj18" button_text_color="#000000" button_font="bold" button_font_size="15px" button_width="auto" button_alignment="center" button_text_spacing="2px" button_bg_color="#e5e5e5" button_padding="15px 60px 15px 60px" button_border_width="0px" button_border_color="#000000" button_border_radius="0px" button_text_hover_color="#ffffff" button_text_spacing_hover="2px" button_bg_hover_color="#000000" button_border_hover_color="#000000" button_link="https://vladletophotography.com/faq/" button_link_type="url" button_link_target="_blank" has_container="" in_column="1"]MORE INFORMATION[/ce_button]